Free delivery

Free delivery from 49,00 £

Personal support

+44 20 3856 3856

Cancellation Terms

Get instant support

Warranty

The warranty regulations by law are valid
Description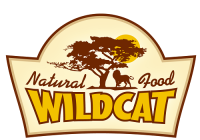 Rani from Wildcat is a very healthy gourmet dry food for cats. It is suited to the everyday consumption for all age groups.

Rani catfood contains almost 60% pure meat from pheasant and duck in food quality and animal welfare-friendly Taurine in an optimum amount. Taurine can not be produced by cats themselves and therefore must be obtained from food. A deficiency of taurine can lead to irritability and eye and heart problems.

Sweet potatoes, according to the CSPI (Center for Science in the Public Interest) are among the most nutritious vegetables that counteract high Kotfestigkeit, which is favored in general by a high meat content.

Rani catfood has a naturally delicious delicate gamey flavor in combination with a slightly sweet pumpkin note.
grain-free
high poultry meat content
optimal taurine
suitable for allergy sufferers
contains only healthy ingredients meaningful
without sugar addition
without artificial attractants, preservatives or dyes
without soy proteins
without sunflower oil, canola oil and tapioca
without vitamin K3
Dry cat food Wildcat Rani Pheasant, Duck, Sweet Potato packaging sizes
Rani Pheasant, Duck, Sweet Potato 3 kg
Rani Pheasant, Duck, Sweet Potato 500 g
Advantages of Wildcat dry food for cat
the food composition doesn't include any colouring, preservative or flavouring agents;
only natural ingredients are used there;
it is pet food with high nutritional value which has balanced amount of vitamins and such important elements as proteins (for muscle mass) and taurin (for heart and nervous system functions and eyesight).
Ingredients
Pheasant meat

(32.5%)
Dried duck meat

(26%)
Sweet potato

(14.8%)
Pumpkin

(5.6%)
Calcium
Deficiency of a calcium in an organism of a cat leads to destruction of bones and teeth.Calcium: Learn more
(2.2.%)
Phosphorus

(1.7%)
Additives
Zinc
Zinc is an important mineral which is a part of qualitative vitamin supplements and drugs.Zinc: Learn more
(342 mg)
Zinc Aminoacid Chelate, Hydrate

(342 mg)
Iron sulfate monohydrate

(309 mg)
Iron sulfate

(309 mg)
Zinc sulfate

(285 mg)
Vitamin E

(202 IU)
Manganese

(112.5 mg)
Copperchelate of aminoacidhydrate

(51 mg)
L-lysine

(48 mg)
Copper

(41 mg)
Vitamin A

(31.500 IU)
Iron chelate of amino acids hydrate

(20.5 mg)
Ferrous
Iron is necessary for pets for prophylaxis of anemia, rising of resilience of an organism to illnesses, appetite improvements.Ferrous: Learn more
(20.5 mg)
DL-Methionine

(3.077 mg)
Taurine
The taurine is a useful amino acid which doesn't join in composition of proteins of an organism.Taurine : Learn more
(3.045 mg)
Vitamin D3
The lack of D3 vitamin in an organism of a cat provokes the following problems: - failures in work of the alimentary system; - delicacy of a bone tissue; - deformations of paws, basin, head.Vitamin D3: Learn more
(2.188 IU)
Iodine as calcium iodate

(1.58 mg)
Selenium

(0.51 mg)
Spinach
Jerusalem artichoke concentrate
Minerals
The minerals, necessary for animals, are divided into two groups: major elements and trace substances.Minerals : Learn more
Parsnip
Fennel
Duck au jus
Essential amino acid
Duck fat
Potato starch
Catnip
Thyme (Thymus)
Blackcurrants
Marjoram
Oregano
Parsley
Sage
Blackberry
Raspberry
Blueberry
Elderberries
Dandelion
Chokeberry
Flaxseeds
Sea salt
Beetroot
MOS (Mannan-oligosaccharides)
Nettle
Hawthorn
Ginseng
FOS (Fructooligosaccharides)
Analytical Constituents
| | |
| --- | --- |
| Crude protein | 31% |
| Crude fat | 15.5% |
| Crude ash | 12% |
| Crude fiber | 1.5% |
Feeding recommendations
| | |
| --- | --- |
| Weight of cat | Daily requirement |
| – 2.5 kg | 30 – 45 g |
| 2.5 – 3.5 kg | 45 – 50 g |
| 3.5 – 5 kg | 50 – 60 g |
| 5 kg + | 60 g + |
Nutrition advice
High quality Dry cat food Rani Pheasant, Duck, Sweet Potato​ is recommended Food for mature cats.​
We advise you to observe the daily ration recommended by manufacturer. An increased daily intake can negatively affect the cat's health. Please provide your pet a constant access to fresh water.
The domestic cat needs the balanced food. It has to be the closest to the food that its ancestors had in a native habitat. Such nutrition will provide long, active and happy life to a cat.
Recommendations on daily protein and fat intake for cats:
Disclaimer