Free delivery

Free delivery from 51,00 £

Personal support

+44 20 3856 3856

Cancellation Terms

Get instant support

Warranty

The warranty regulations by law are valid
Winter Dream 400 g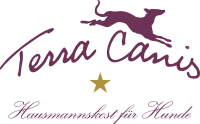 With juicy roast venison, healthy pumpkin, exquisite sweet potato as well as fruity mandarin and vitamin-rich cowberries, the Terra Canis winter menu cannot only score culinarily, it also supplies many healthy nutrients thanks to which the dog stays fit during the cold season.
A special delicacy are the contained sweet chestnuts which are high in precious proteins and supply the dog with important amino acids. Added coconut flakes supply additional healthy fatty acids, whereas the aromatic fennel seeds have positive effects on digestion and the gastro-intestinal tract.
Owing to its rare processing, roe venison is also a tasty alternative for sensitive dogs and dogs suffering from allergies, which will certainly arouse great enthusiasm. The Terra Canis winter menu is made of raw materials of 100% human grade quality.
Terra Canis Winter Dream packaging sizes:
Advantages of Terra Canis Wet food for dogs
The lining thrilled with a particularly high proportion of meat that will not only taste great for your dog, but is additionally oriented to the natural needs of the animals.
In combination with fruits, vegetables and herbs canned food from Terra Canis is equally healthy.
Ingredients
Roe deer meat

(60%)
Sweet potato

(7%)
Celery

(4%)
mandarin orange

(2%)
sweet chestnut

(2%)
Fennel seeds

(0.4%)
Additives
Linseed oil
Thyme (Thymus)
Ginger
Andean salt
Mineral earth
Pumpkin
Organic eggshell powder
coconut flakes
Zucchini
Lingonberry
Apples
Seaweed
Analytical Constituents
| | |
| --- | --- |
| Moisture | 78.1% |
| Crude protein | 8.5% |
| Crude fat | 4.6% |
| Crude ash | 0.8% |
| Crude fiber | 0.8% |
Suitable for Dog breeds
All dog breeds
Feeding recommendations
| | |
| --- | --- |
| Weight of the dog | Daily rate |
| 5 kg | 150 - 200 g |
| 10 kg | 300 - 400 g |
| 20 kg | 600 - 800 g |
| 30 kg | 900 -1200 g |
Nutrition advice
Winter Dream is Adult Wet dog food Food for adult dogs. Wet dog food is recommended for all breeds.
Please pay attention to your dog's daily ration of the recommended food to get the ideal weight gain of your dog and prevent overweight. Your dog should always have an access to fresh water.
The balanced dog food has to contain all nutritious elements necessary for healthy development of pets.
Organic substances — fats, proteins and carbohydrates — are necessary for energy development.
In addition, they participate in the hemopoietic processes, and also regulate work of some organs.
More about Dog feeding
Recommendations on daily protein and fat intake for dogs:
Disclaimer