Free delivery

Free delivery from 51,00 £

Personal support

+44 20 3856 3856

Cancellation Terms

Get instant support

Warranty

The warranty regulations by law are valid
LED X-Change Tube Cool Daylight 66 cm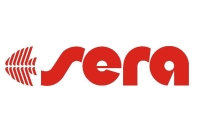 Bluish daylight for freshwater and marine aquariums (10.000 – 12.000 Kelvin)
Enhances bluish colors
Dimmable with the sera LED Digital Dimmer
High light intensity

The sera LED X-Change Tube cool daylight provides ideal daylight for freshwater and marine aquariums.

In freshwater aquariums with bluish fish, such as lake Malawi cichlids, neon tetras or rainbow fish, the bluish light of the LED tube lead to color enhancement, presenting the splendid colors of the fish in the best possible way.

The bluish daylight creates a deep water effect in marine aquariums that represents natural light in the sea. The fluorescence of corals is also enhanced by the reef light.

The sera LED Digital Dimmer allows adjusting the brightness or the light intensity of the sera LED X-Change Tube cool daylight. It can therefore also be used as moonlight or nightly light.

LED X-Change Tube
Length (mm)

T8

T5

T5 special

360

15 W / 45 cm (18 in.)

24 W / 43.8 cm (18 in.)

-

520

18 W / 60 cm (24 in.

28 W / 59 cm (24 in.)

24 W / 54.9 cm (21.6 in.)

660

25 W / 75 cm (30 in.)

35 W / 74.2 cm (29.7 in.)

-

820

30 W / 90 cm (36 in.)

45 W / 89.5 cm (36 in.)

39 W / 84,9 cm (33.4 in.)

965

38 W / 105 cm (42 in.)

54 W / 104.7 cm (42 in.)

-

1120

36 W / 120 cm (48 in.)

54 W / 120 cm (48 in.)

54 W / 114.9 cm (45.2 in.)

1420

58 W / 150 cm (59 in.)

-

80 W / 144.9 cm (57 in.)
There are spare parts (accessories) for this item: Sera LED X-Change System:
Triple Cable
X Change Tube
LED lighting Sera LED X-Change Tube Cool Daylight variants:
LED X-Change Tube Cool Daylight 120 cm
LED X-Change Tube Cool Daylight 142 cm
LED X-Change Tube Cool Daylight 36 cm
LED X-Change Tube Cool Daylight 52 cm
LED X-Change Tube Cool Daylight 66 cm
Disclaimer