Free delivery

Free delivery from 51,00 £

Personal support

+44 20 3856 3856

Cancellation Terms

Get instant support

Warranty

The warranty regulations by law are valid
Cat Pouch Tuna with Chicken Fillet 100 g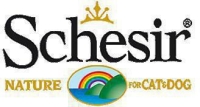 Tuna with Chicken is a healthy and well-balanced diet that they provide, and also the use of carefully selected ingredients makes for an extremely enticing and appetising taste.

- 100% natural ingredients, of the same quality as those used for human consumption;
- Free from colourings, appetising additives and chemical preservatives;
- Hormone-free chicken and fish caught in the open sea;
- Careful selection of the very best parts meat, steam-cooked and hand-processed;
- Utmost care in the preparation of health, appetising recipe.
Wet cat food Schesir Cat Pouch Tuna with Chicken Fillet packaging sizes
Cat Pouch Chicken tender Morsels in Gravy 100 g
Cat Pouch Chicken 100 g
Chicken Fillets with Hake 100 g
Pouch Chicken Fillets with Ham 100 g, 50 g
Pouch Chicken Fillets with Seabass 50 g, 100 g
Advantages of Schesir Products
Schesir has a number of advantages:
Only fresh natural ingredients.
No colourants or preservatives.
Beneficial elements are preserved thanks to steam cooking technology.
Continuous strict quality control.
Original unique recipes.
Composition

Chicken

Chicken Fillet

Chicken Fillet & Hake

Chicken Fillet & Ham

Chicken Fillet & Sea bass

Tuna

Tuna & Chicken & Ham

Tuna & Chicken & Shrimps

Tuna & Goldbrasse

Tuna & Hake

Tuna & Quinoa

Tuna & Salmon

Tuna & Sea bass
Ingredients
Chicken fillet

(27%)
Rice

(1.5%)
Analytical Constituents
| | |
| --- | --- |
| Moisture | 84% |
| Crude protein | 14% |
| Crude fat | 1% |
| Crude ash | 1% |
| Crude fiber | 0.5% |
Feeding recommendations
Cats should be fed around 2 pouches per day in combination with Schesir wet and/or dry food at room temperature.
Once opened, food should be stored in the fridge and served within 48 hours of the seal being broken.
Nutrition advice
High quality Wet cat food Cat Pouch Tuna with Chicken Fillet​ is recommended for every age.​
We advise you to observe the daily ration recommended by manufacturer. An increased daily intake can negatively affect the cat's health. Please provide your pet a constant access to fresh water.
The domestic cat needs the balanced food. It has to be the closest to the food that its ancestors had in a native habitat. Such nutrition will provide long, active and happy life to a cat.
Recommendations on daily protein and fat intake for cats:
Disclaimer