Free delivery

Free delivery from 49,00 £

Personal support

+44 20 3856 3856

Cancellation Terms

Get instant support

Warranty

The warranty regulations by law are valid
Description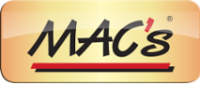 MAC's Soft - Chicken is a dry food formula specially developed for adult dogs. It's a cereal-free combination of Chicken and Trout with high content of vitamins and other substances so important for your dog well-being. Natural and well-balanced diet is free of artificial ingredients and has high acceptance level.

MAC's Super Premium products are world well-known for its guality and natural origin.
MAC's Soft - Adult with Chicken packaging sizes:
Soft - Adult Grain free 15 kg, 1.5 kg, 230 g
Soft - Adult with Chicken 3x5 kg, 3x1.5 kg, 3x230 g
Soft - Adult mit Lamb 230 g, 5 kg, 1.5 kg
Soft - Turkey & Venison 3x5 kg, 3x1.5 kg, 3x230 g
Dry foods for dogs from MAC's
These are grain-free products with high amount of meat.
Beneficial vegetable ingredients are included in the feed composition: carrots, broccolis, spinach, cranberries.
This is a well-balanced nutrition which will make your pet healthy, full of energy and happy.
Composition

Chicken & Duck & Fish

Lamb

Turkey & Venison & Fish
Ingredients
Fresh chicken

(45%)
Rice

(22%)
Chicken meat meal

(20%)
Fish meal

(6%)
Additives
Yucca schidigera extract

(500 mg/kg)
Zinc sulfate

(278 mg)
Vitamin E
Vitamin E is one of the most necessary elements for the correct development of a dog.Vitamin E: Learn more
(200 mg)
Zinc
Zinc is an important mineral which is a part of qualitative vitamin supplements and drugs.Zinc: Learn more
(94 mg)
Manganese

(82 mg)
Ferrous
Iron is necessary for pets for prophylaxis of anemia, rising of resilience of an organism to illnesses, appetite improvements.Ferrous: Learn more
(41 mg)
Vitamin A
Vitamin A and beta carotene contribute to normalization of a set of processes in an organism of a dog:

- increase fastness to viruses and infections; - accelerate process of growth and development; - improve sight, motility and coordination.Vitamin A: Learn more
(23.500 Ul)
Sodium selenite

(21 mg)
Calcium
Calcium is one of the most important elements in an organism of a dog which provides:

- formation of bones and teeth; - coagulability of a blood; - reduction of muscles.Calcium: Learn more
(15.75 mg)
Cobalt carbonate

(6.3 mg)
Iodine

(1.57 mg)
Vitamin D3
D3 vitamin in an organism of a dog carries out the following functions: - accelerates an absorption of phosphorus and a calcium from an intestine; - regulates process of removal of phosphorus and calcium through kidneys; - provides the optimum content of phosphorus and calcium in bones.Vitamin D3: Learn more
(1.550 UI)
Cobalt

(0.31 mg)
Selenium

(0.21 mg)
Rosemary extract
Yeast
MOS (Mannan-oligosaccharides)
FOS (Fructooligosaccharides)
Chicken fat
Seaweed
Chicken broth
Beet pulp
Potato
Analytical Constituents
| | |
| --- | --- |
| Crude protein | 27% |
| Moisture | 16% |
| Crude fat | 14% |
| Crude ash | 6.5% |
| Crude fiber | 2.3% |
Suitable for Dog breeds
Medium, 11-25 kgLarge, over 26 kg
Feeding recommendations
| | |
| --- | --- |
| Weight | Daily requirement |
| 10 - 20 kg | 160 - 240 g |
| 20 - 30 kg | 240 - 350 g |
| 30 - 40 kg | 350 - 440 g |
| 50 - 60 kg | 440 - 520 g |
Nutrition advice
Soft - Adult with Chicken is Adult Dry dog food Food for adult dogs. Dry dog food is recommended Dog food for medium breeds.
Please pay attention to your dog's daily ration of the recommended food to get the ideal weight gain of your dog and prevent overweight. Your dog should always have an access to fresh water.
The balanced dog food has to contain all nutritious elements necessary for healthy development of pets.
Organic substances — fats, proteins and carbohydrates — are necessary for energy development.
In addition, they participate in the hemopoietic processes, and also regulate work of some organs.
Recommendations on daily protein and fat intake for dogs:
Disclaimer