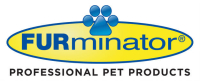 Matting can affect all coat types, pulling on the skin and leading to severe discomfort, pain and irritation. The FURflex Reversible Mat Breaker removes uncomfortable mats on both long- and short-hair breeds. Reversible blade action enables right- and left-handed usage and makes grooming from either side of the pet a snap! Use with the FURminator FURflex System to get the ultimate flexibility in pet hair control - customize to quickly and easily deShed, groom & pick up loose hair!

Effortlessly removes mats
Easily reversible for left or right hand use
Curved, stainless steel blades for added safety
Great for homes with multiple pets and different grooming or hair collection needs

Directions for use: To begin the dematting process, simply adjust the curved blades on the tool to accommodate right- or left-handed usage by pressing the release button on the side of the tool. The button releases the blades, allowing for removal of the blade and reinsertion of the blade cartridge in the opposite direction. Lock the blades securely in place by sliding locking mechanism back in starting position.

Includes: Reversible Mat Breaker Head only.

Similar products:
FURflex Handle (Article 63971 at our website)