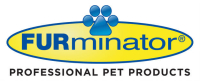 Separates and untangles fur on small dogs with medium, long, curly, wiry or silky coats. The soft stainless steel bristles will not scratch or pull the skin. The dual flex head design follows the natural contours of the dog's head and body while keeping the bristles in their ideal working position. Use with the FURminator FURflex System to get the ultimate flexibility in pet hair control - customize to quickly and easily deShed, groom & pick up loose hair!

Directions for use: Brushing is the first step to good grooming. A high-quality brush helps remove debris and loose hair and break up tangles. After brushing, small pin mats and tangles often remain and are easily removed with a comb. For best results, start with a brush and finish with a comb. Your dog's coat type will determine the style of comb you should purchase.

Includes: Dual Slicker Brush Head only.

Similar products:
FURflex Handle (Article 63971 at our website)