Free delivery

Free delivery from 51,00 £

Personal support

+44 20 3856 3856

Cancellation Terms

Get instant support

Warranty

The warranty regulations by law are valid
Cage - Hemmy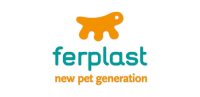 Hemmy is an elegant aviary for canaries and exotic birds. It is made of wood and has refined decorations of small birds in the front area. The wood is treated with a special non-toxic waterproof paint, painted using "flow coating" processes for greater durability over time. Hemmy is a modern, carefully designed wooden aviary, painted in delicate pastel colours and comes complete with everything you need to accommodate several birds together, in comfort.

It is easy to clean, thanks to its removable inner tray. It also has wheels, making it easy to move to your favourite spot. Inside, you can place the essential accessories included, like perches, a plastic drinking bottle and Brava 6 swivel feeders.
Hemmy is Ferplast's first Treefriend brand item. This is the product range in which the only wood used comes from forests managed in accordance with the principles of environmental sustainability.

Dimensions: 84.5 x 65.5 x h 165 cm
Disclaimer
Similar goods
23 W

170×105×77 cm

22×14×15 cm

27x32x27 cm

80x50x115 cm
* Prices incl. VAT
* Delivery Terms & Conditions