Wolfsblut Wet dog food (28 products)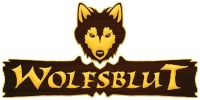 Salmon & Potato

395 g

Rabbit & Vegetables

395 g

Ostrich & Sweet potato

395 g

Tuna & Lettuce

395 g

Camel

395 g

Pheasant & Duck & Rabbit

395 g

Turkey & Sweet potato

395 g

Wild boar & Potato

395 g

Goose & Sweet potato

395 g

Duck & Potato & Vegetables & Fruits & Herbs

395 g

Water buffalo

395 g

Game & Potato

200 g

Lamb & Salmon & Vegetables & Potato

395 g

Horse meat & Sweet potato

395 g

Venison & Pumpkin

395 g

Reindeer & Pumpkin

395 g

Trout & Sweet potato

395 g

Goat

395 g

Sea fish & Potato & Fruits & Ginseng & Herbs

395 g

Horse meat

395 g

Kangaroo & Pumpkin

395 g

Goat & Sweet potato

395 g

Venison & Potato

395 g

Water buffalo & Pumpkin

395 g

Sweet potato

395 g

Camel & Sweet potato

24x200 g
* Prices incl. VAT
* Delivery Terms & Conditions

Dog food in cans from Wolfsblut
Wolfsblut wet dog food are premium products formulated considering dogs' natural food requirements. Qualified dieticians take part in creating this feed. Ingredients of the brand products are processed using the modern technology, which allows preserving nutritious qualities of the components.
Wide range of Wolfsblut wet dog food
For all ages. These are hypoallergenic feeds. These kinds of Wolfsblut dog food support the pet's health. The line offers combined feeds containing both meat and plant components and also Pure feeds, that contain 100% of meat.
Adult. These are complete products for adult dogs. Meat (for example, goose, rabbit, ostrich, pheasant) or fish (tuna, etc.) serve as the main ingredient. Moreover, the feed contains a number of beneficial components. In particular, Moringa oleifera has an antimicrobial effect on the body and ensures strengthening of the immunity. Jerusalem artichoke found there is rich in inulin that beneficially affects the intestinal flora.
Chickeria. This is a line of feed with chicken (over 80% of the total composition). Moreover, this series includes food containing veal and a product with carrots. Besides, apart from high-quality animal protein, vital for dogs, these products contain sea buckthorn, blackberries, raspberries, Jerusalem artichokes and many other beneficial components.
How to buy Wolfsblut wet dog food online
Zoobio offers a wide choice of affordable pet products, including ones from the Wolfsblut trademark. In order to keep up with all the promotions and special offers and spend less for each purchase, subscribe to our newsletter. Don't miss your opportunity to buy Wolfsblut wet dog food at reasonable prices – place your order right now!