Whiskas Meals for cats (130 products)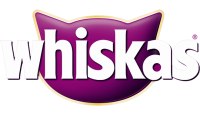 Whiskas Duolicious Salmon & Yoghurt 66 g

Salmon & Yoghurt

66 g

Whiskas 1+ Heart in Paté 400 g

Hearts

400 g

Beef

400 g

Whiskas 1+ in Sauce with Poultry 400 g

Poultry

400 g

Whiskas 1+ Poultry Selection in Jelly 12x100 g

Poultry

12x100 g

Whiskas 1+ Meaty Selection in Gravy 12x100 g

Meat

12x100 g

200 ml

Whiskas 1+ Poultry in gravy 100 g

Poultry

100 g

Whiskas 1+ Salmon in gravy 100 g

Salmon

100 g

Chicken

100 g

Whiskas Sticks Rich in Chicken 6x6 g

Chicken

6x6 g

Whiskas Sticks Rich in Salmon 6x6 g

Salmon

6x6 g

Chicken & Turkey & Duck

100 g

Chicken

400 g

Whiskas 1+ with Salmon in Jelly 400 g

Salmon

400 g

Whiskas 1+ Fresh Menue in Sauce with Chicken, Turkey and Poultry 6x50 g

Poultry

6x50 g

Whiskas 1+ Tuna in Paté 400 g

Tuna

400 g

Beef & Beef liver

400 g

Whiskas 1+ Poultry Paté 400 g

Poultry

400 g

Chicken

100 g

Lamb

100 g

Fish

12x100 g

Whiskas Multipack 1+ Poultry selection in Sauce 12x100 g

Poultry

12x100 g

Meat

12x100 g

Whiskas Multipack 7+ Poultry Selection in Sauce 12x100 g

Poultry

12x100 g

Whiskas Shell Adult 1+ with Forelle 100 g

Trout

100 g

Whiskas Shell Adult 1+ Poultry 100 g

Poultry

100 g

Whiskas Shell Adult 1+ with Rabbit 100 g

Rabbit

100 g

Beef

100 g

Chicken

100 g

Whiskas Shell Senior 7+ with Poultry 100 g

Poultry

100 g

Chicken

100 g

Meat & Fish

12x100 g

Whiskas 1+ Creamy Soups - Poultry Selection 12x85 g

Poultry

12x85 g

Meat & Poultry

12x85 g

Whiskas Multipack 7+ Poultry Variation in Jelly 12x100 g

Poultry

12x100 g

Whiskas 1+ with Chicken 1.9 kg

Chicken

1.9 kg

Chicken & Turkey & Poultry

6x50 g

Whiskas 1+ in Sauce with Lamb 400 g

Lamb

400 g

Whiskas 1+ Rabbit in gravy 100 g

Rabbit

100 g

Whiskas 1+ with Lamb in jelly 100 g

Lamb

100 g

Whiskas Creamy Soups with Chicken in sauce 85 g

Chicken

85 g

Whiskas 1+ Casserole Chicken in Jelly 85 g

Chicken

85 g
* Prices incl. VAT
* Delivery Terms & Conditions

Cat food from Whiskas
Whiskas cat food is famous worldwide. This brand has existed since 1958. Using its experience, the company makes complete healthy food for cats that complies with the food requirements of these animals.
The wide range of Whiskas cat food
Casserole. Wet food in pouches. Juicy meat or fish pieces in jelly. You can buy these products in multipacks in order not to buy them by the piece.
Creamy Soups. Wet food with a tender creamy texture. These are meat or fish pieces in a creamy sauce that will never leave any cat indifferent.
Simply pouch. In this line, there are presented the following kinds of Whiskas cat food: stewed, grilled and steamed as well. These are wet products characterised by a balanced amount of minerals, which is extremely important for a healthy urinary system of animals. Moreover, these foods include zinc which has a positive effect on skin and coat health.
In the range of the brand, there are complete dry foods with two flavours: chicken and tuna. These crunchy kibbles provide your pet with all necessary substances for being healthy. Besides, these products contain omega-6 fatty acids and zinc for healthy skin, vitamin A for visual acuity.
The main advantages of Whiskas cat food
These products are distinguished by excellent taste and aroma.
Whiskas cat food and treats are made in association with specialists from the WALTHAM Centre for Pet Nutrition. Besides, the manufacturer continuously improves the recipes of its products.
Food from this brand contains the components which cats need for a healthy life. In particular, Whiskas products include such beneficial ingredients as:

Meat (chicken, beef, turkey, mutton, rabbit) – a source of valuable animal proteins which is the basis of all body tissues.
Fish (salmon, tuna, etc) – a product rich in essential vitamins and microelements.
Vegetables – sources of fibres inevitable for the proper digestion.
Grains (rice, corn) – give cats necessary amount of energy.
Sunflower oil – a component that contains valuable fatty acids that have a beneficial effect on skin and coat.
Most products from the brand are rich in taurine needed for the proper food digestion and absorption.
How to buy Whiskas cat food online
On Zoobio, you can buy food from this trademark just in a couple of minutes. Just browse through our catalogue to buy food from this brand just in a couple of minutes. We'll process your request and deliver your purchase in the shortest time. Would you like to buy Whiskas cat food in the online shop without any trouble? Place your order on our website right now!