Free delivery

Free delivery from 51,00 £

Personal support

+44 20 3856 3856

Cancellation Terms

Get instant support

Warranty

The warranty regulations by law are valid
Holistic 5 kg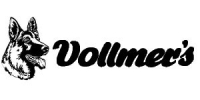 Holistic Light is a calorie-reduced complete food, which is based on latest knowledge in pet's food sphere.

Even the wolf fed not only meat, but also, instinctively, supplemented its food with plants, berries and fruits, roots, herbs, vegetables, etc.

The ingredients used promote the well-being of your dog and bioregulate the health condition. Each individual component, with its unique effect, influences the health of your dog in a positive way.

Here is a real fountain of youth and wellbeing!

Pay attention to the Goji berries and their miraculous effect! Scientists confirm that Goji berries have the highest potential of vital substances promotion among other fruits and berries.
Vollmers Holistic packaging sizes:
Holistic 1 kg
Holistic 15 kg
Holistic 5 kg
Main advantages of Vollmers dry dog food
Products from this trademark are formulated according to the latest achievements in veterinary science.
The Vollmers company, from the very moment of its establishment, has never performed any animal testing.
Vollmers dog treats and foods consist of top-quality ingredients. The manufacturer purchases fresh raw materials only from German farms.
Only animal meat approved by veterinary control is used in the production.
Ingredients
Dried poultry meat

(min. 29%)
Potato flakes

(min. 20%)
Rice

(min. 20%)
Whole egg

(min. 0.5%)
Salmon oil

(min. 0.5%)
Goji

(min. 0.02%)
Additives
Vitamin A
Vitamin A and beta carotene contribute to normalization of a set of processes in an organism of a dog:

- increase fastness to viruses and infections; - accelerate process of growth and development; - improve sight, motility and coordination.Vitamin A: Learn more
(15000 IE)
Vitamin D3
D3 vitamin in an organism of a dog carries out the following functions: - accelerates an absorption of phosphorus and a calcium from an intestine; - regulates process of removal of phosphorus and calcium through kidneys; - provides the optimum content of phosphorus and calcium in bones.Vitamin D3: Learn more
(1200 IE)
Choline chloride

(1200 mg)
Biotin
Biotin is the vitamin promoting production of hemoglobin in an organism of a dog.Biotin: Learn more
(350 mcg)
Ferrous
Iron is necessary for pets for prophylaxis of anemia, rising of resilience of an organism to illnesses, appetite improvements.Ferrous: Learn more
(100 mg)
Zinc
Zinc is an important mineral which is a part of qualitative vitamin supplements and drugs.Zinc: Learn more
(100 mg)
Vitamin C

(70 mg)
Vitamin E
Vitamin E is one of the most necessary elements for the correct development of a dog.Vitamin E: Learn more
(50 mg)
Vitamin B12

(40 mcg)
Nicotinic acid
The lack of nicotinic acid of an organism of a dog provokes failures in work of the nervous and alimentary system.Nicotinic acid: Learn more
(30 mg)
Manganese

(20 mg)
Calcium pantothenate

(15 mg)
Copper
Copper is an important trace substance, its lack can harmfully affect a condition of an organism of the pet and cause the following:

- anemias;

- defects of bones and their slowed-down growth;

- heart failure;

- depression of reproductive potential.Copper: Learn more
(10 mg)
Vitamin B6
B6 vitamin or pyridoxine is irreplaceable for the correct functioning of immune and nervous systems of the pet.Vitamin B6: Learn more
(6 mg)
Vitamin B2

(5 mg)
Vitamin B1

(5 mg)
Cobalt

(2 mg)
Iodine

(2 mg)
Folic acid
Folic acid is an important vitamin which is necessary for the correct functioning of immune and circulatory systems.Folic acid: Learn more
(2 mg)
Selenium

(0.3 mg)
Corn
Hydrolyzed chicken
Carob flour
Chicory
Carrot pulp
Beet pulp
Lamb meat meal
Lucerne extract
Poultry fat
Paprika
Tomato
Chicken meat
Duck meat
Yeast
Vegetables
Parsnip
Spinach
Parsley
Dried turkey meat
Tocopherol-rich extract of natural origin
Peas
Fish meal
Cinnamon
Seaweed meal
Gelatin
Algae
Herbs
Spices
Garlic
Devil's claw
Fennel
Basil
Thyme (Thymus)
Hydrolysed poultry liver
Anise
Turkey meat
Mojave yucca (Yucca schidigera)
L-carnitine
The carnitine in an organism of a dog participates in delivery of fatty acids to a mitochondrion where the process of their oxidation takes place.L-carnitine: Learn more
Mussel extracts
Sodium chloride
Flaxseeds
Apple remnants
Lucerne
Diatomaceous earth
Analytical Constituents
| | |
| --- | --- |
| Crude protein | 25% |
| Crude fat | 12% |
| Crude ash | 8.6% |
| Crude fiber | 2.3% |
| Calcium | 1.6% |
| Phosphorus | 1% |
Feeding recommendations
1% of bodyweight added to food daily.

Nutrition advice
Holistic is Adult Dry dog food Food for adult dogs. Dry dog food is recommended for all breeds.
Please pay attention to your dog's daily ration of the recommended food to get the ideal weight gain of your dog and prevent overweight. Your dog should always have an access to fresh water.
The balanced dog food has to contain all nutritious elements necessary for healthy development of pets.
Organic substances — fats, proteins and carbohydrates — are necessary for energy development.
In addition, they participate in the hemopoietic processes, and also regulate work of some organs.
Recommendations on daily protein and fat intake for dogs:
Disclaimer