Free delivery

Free delivery from 51,00 £

Personal support

+44 20 3856 3856

Cancellation Terms

Get instant support

Warranty

The warranty regulations by law are valid
Menu Grain-Free, Beef with zucchini, pumpkin and oregano 200 g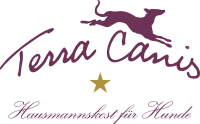 This line is grain-free, lactose-free, and free from all synthetic additives. These meals are suitable for all adult dogs, but especially for those who should be fed a grain-free diet for nutritional reasons or have an intolerance to grains and / or lactose. A natural grain-free diet is also advisable for dogs with diseases such as epilepsy, pancreatic and inflammatory joint diseases (e.g. arthrosis, HD), in conjunction with veterinary treatment.
These wet food meals are made in a food processing facility, an Upper Bavarian traditional butcher's. Only food-grade ingredients are used. In addition to the fresh muscle meat and "good offal" such as heart and liver, there are over 20 different types of vegetables, fruits, and herbs in these meals. Complete food for dogs.
Terra Canis Menu Grain-Free, Beef with zucchini, pumpkin and oregano packaging sizes:
Menu Grain-Free, Beef with zucchini, pumpkin and oregano 200 g, 400 g, 800 g
Menu Grain-Free, Chicken with Parsnip, Blackberries and Dandelion 200 g, 800 g, 400 g
Grain-Free Menu, Cod with Broccoli, Fennel and Mango 400 g, 800 g
Duck with Pumpkin, Strawberry and Elderflower, Grain-free 200 g, 400 g, 800 g
Menu Grain-Free, Game with Potato, Apple & Cranberries 200 g, 400 g, 800 g
Advantages of Terra Canis Wet food for dogs
The lining thrilled with a particularly high proportion of meat that will not only taste great for your dog, but is additionally oriented to the natural needs of the animals.
In combination with fruits, vegetables and herbs canned food from Terra Canis is equally healthy.
Composition

Chicken & Parsnip

Cod & Broccoli

Duck & Pumpkin

Game & Potato

Horse meat & Fennel

Lamb & Pumpkin

Rabbit & Zucchini

Turkey & Celery

Veal & Parsley

Wild boar & Beetroot
Ingredients
Beef heart

(40%)
Pumpkin

(15%)
Beef muscle meat

(13%)
Beef lung

(11%)
Zucchini

(9%)
Organic eggshell powder

(0.4%)
Oregano

(0.2%)
Seaweed

(0.15%)
Additives
Parsnip
Chives
Blossom pollen
Wheat germ oil
Parsley
Andean salt
Analytical Constituents
| | |
| --- | --- |
| Moisture | 78.5% |
| Crude protein | 8.8% |
| Crude fat | 6.6% |
| Crude ash | 1.1% |
Suitable for Dog breeds
All dog breeds
Feeding recommendations
Dog's weight

(adult, normal-weight dog)

Amount of food per day
5 kg
150 - 200 g
10 kg
300 - 400 g
20 kg
600 - 800 g
30 kg
900 -1200 g
Nutrition advice
Menu Grain-Free, Beef with zucchini, pumpkin and oregano is Adult Wet dog food Food for mature cats. Wet dog food is recommended for all breeds.
Please pay attention to your dog's daily ration of the recommended food to get the ideal weight gain of your dog and prevent overweight. Your dog should always have an access to fresh water.
The balanced dog food has to contain all nutritious elements necessary for healthy development of pets.
Organic substances — fats, proteins and carbohydrates — are necessary for energy development.
In addition, they participate in the hemopoietic processes, and also regulate work of some organs.
More about Dog feeding
Recommendations on daily protein and fat intake for dogs:
Disclaimer