Free delivery

Free delivery from 51,00 £

Personal support

+44 20 3856 3856

Cancellation Terms

Get instant support

Warranty

The warranty regulations by law are valid
Cat Pouch Chicken 100 g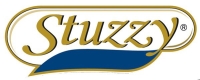 Stuzzy Cat wet food for cats is made to a delicious recipe and does not contain artificial colourings or preservatives. The tender chunks of tasty meat are steam cooked to make them easy to digest. Stuzzy Cat food contains valuable taurine and vitamin E which supports a healthy heart and good eyesight. It can also help to keep your cat's immune system healthy. Biotine has been added to make sure your cat has a healthy skin and shiny fur. Stuzzy Cat also contains inulin which helps your pet to absorb nutrients.
Wet cat food Stuzzy Cat Pouch Chicken packaging sizes
Cat Pouch beef 100 g
Cat Pouch Chicken 100 g
Cat Pouch Cod 100 g
Cat Pouch Ham 100 g
Cat Pouch Salmon 100 g
Advantages of Stuzzy Wet food for cats
The products contain:
inulin is necessary for better uptake of nutrient;
biotin that makes coat look shiny and healthy;
fibres needed for correct functioning of the digestive tract.
Composition

Beef

Cod

Ham

Salmon

Veal
Additives
Inulin
Vegetable by-products
Meat
Animal by-products
Analytical Constituents
| | |
| --- | --- |
| Moisture | 82% |
| Crude protein | 7.5% |
| Crude fat | 4% |
| Crude ash | 2.5% |
| Crude fiber | 0.3% |
Feeding recommendations
1 pouch per mealtime. An adult cat (approx. 4kg) needs 3-4 pouches each day.
Nutrition advice
High quality Wet cat food Cat Pouch Chicken​ is recommended for every age.​
We advise you to observe the daily ration recommended by manufacturer. An increased daily intake can negatively affect the cat's health. Please provide your pet a constant access to fresh water.
The domestic cat needs the balanced food. It has to be the closest to the food that its ancestors had in a native habitat. Such nutrition will provide long, active and happy life to a cat.
More about Cat feeding
Recommendations on daily protein and fat intake for cats:
Disclaimer