Free delivery

Free delivery from 51,00 £

Personal support

+44 20 3856 3856

Cancellation Terms

Get instant support

Warranty

The warranty regulations by law are valid
Senior Whole Prey 6 kg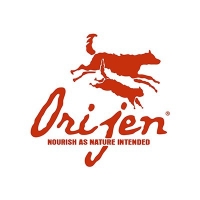 Orijen Senior Whole Prey with fresh free-run chicken and turkey, nest-laid eggs and wild-caught fish nourishes all senior dogs according to their evolutionary and biological needs.
Protein-rich, carbohydrate-limited and grain-free, Orijen features the highest fresh meat inclusions of any dry dog food, at the same time excluding many conventional pet food ingredients — such as inappropriate high-glycemic cereal grains and vegetable proteins that simply are not present in the natural diet.
To mirror the natural diet, Orijen also features a diversity of meats including fresh, free-run chicken and turkey, fresh whole eggs, fresh free-range red meats and fresh saltwater and freshwater fish — all in a Biologically Appropriate ratio of 85 percent meat, 15 percent fruits and vegetables, and zero grain.
Senior dogs are best fed a diet rich in protein to promote lean muscle mass, yet limited in calories to promote a healthy body weight.
Unlike conventional pet foods, Orijen is incredibly rich and varied in fresh meats, which means amino acids and fatty acids are provided naturally, without artificial supplements or synthetic ingredients.
Orijen is free of L-Lysine, Choline Chloride, Thiamine Mononitrate, Biotin, Pyridoxine Hydrochloride, Taurine or L-carnitine, all of which are present in conventional pet foods due to insufficient fresh meat content.
Because fresh meats are also naturally rich in fat, there's little or no rendered fat in Orijen — just like protein, fats are present in foods naturally.
Orijen 's fresh liver, heart and tripe ingredients provide a richly nourishing source of vitamins A, D, E and K, B1, B2, B6, B12, folic acid and minerals, all of which dramatically reduce the need for synthetic additives.
All of organ meats are delivered fresh from region and are exclusively from animals passed fit for human consumption.
Edible bone, marrow and cartilage are naturally present in fresh meats, which means Orijen is naturally balanced in calcium, phosphorus, glucosamine and chondroitin.
Orijen Senior Whole Prey packaging sizes:
Senior Whole Prey 11.4 kg
Senior Whole Prey 2 kg
Senior Whole Prey 340 g
Senior Whole Prey 6 kg
See product details:
Ingredients
Chicken meat

(13%)
Fresh whole herring

(7%)
Turkey meat

(7%)
Fresh chicken liver

(6%)
Flounder

(4%)
Chicken neck

(4%)
Chicken heart

(4%)
Turkey heart

(4%)
Dried chicken meat

(4%)
Dried turkey

(4%)
Dried mackerel

(4%)
Sardine

(4%)
Dried herring

(4%)
Turkey liver

(4%)
Chicken fat

(1%)
Poultry cartilage

(1%)
Herring oil

(1%)
Additives
Glucosamine

(1400 mg/kg)
Chondroitin

(1200 mg/kg)
Zinc-glycine-zinc-chelate-hydrate

(100 mg/kg)
Chard
Althaea root
Lavender
Burdock root
Rosehip
Milk thistle
Probiotic bacteria
Turmeric root
chicory root
Blueberry
Lingonberry
Seaweed/kelp
Fresh zucchini
Spinach
Kale
Pear
Apples
Carrot
Parsnip
Butternut squash
Peas
Egg
Chicken liver
Beans
Chickpeas
Green lentils
Red lens
Pumpkin
Analytical Constituents
| | |
| --- | --- |
| Crude protein | 38% |
| Crude fat | 15% |
| Moisture | 12% |
| Crude fiber | 8% |
| Omega 6 fatty acids | 2.3% |
| Calcium | 1.3% |
| Phosphorus | 1.1% |
| Omega 3 fatty acids | 0.9% |
| Docosahexaenoic acid (DHA) | 0.3% |
| Eicosapentaenoic acid (EPA) | 0.2% |
Suitable for Dog breeds
All dog breeds
Feeding recommendations
Weight of dog
Daily ration
active
less active
2 kg
40 g
30 g
5 kg
90 g
60 g
10 kg
160 g
120 g
20 kg
270 g
180 g
30 kg
360 g
240 g
40 kg
440 g
300 g
50 kg
520 g
360 g
60 kg
600 g
400 g
Nutrition advice
Senior Whole Prey is Senior Dry dog food Food for senior dogs. Dry dog food is recommended for all breeds.
Please pay attention to your dog's daily ration of the recommended food to get the ideal weight gain of your dog and prevent overweight. Your dog should always have an access to fresh water.
The balanced dog food has to contain all nutritious elements necessary for healthy development of pets.
Organic substances — fats, proteins and carbohydrates — are necessary for energy development.
In addition, they participate in the hemopoietic processes, and also regulate work of some organs.
Recommendations on daily protein and fat intake for dogs:
Disclaimer
Similar goods
Beef

250 g

Chicken Breast

250 g

Beef

200 g

Acana Regionals Grasslands 6 kg

Lamb & Duck & Fish

6 kg
* Prices incl. VAT
* Delivery Terms & Conditions