Free delivery

Free delivery from 51,00 £

Personal support

+44 20 3856 3856

Cancellation Terms

Get instant support

Warranty

The warranty regulations by law are valid
Chewing Bars - 12 cm 10 kg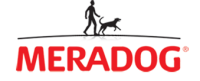 Proper, varied rewards for dogs.

MERA provides an extensive range of dog biscuits, so that a reward is always something different. A properly baked treat from Meradog goes hand-in-hand with balanced nutrition for your dog.
Meradog Chewing Bars - 12 cm packaging sizes:
Chewing Bars - 12 cm 10 kg
Additives
Vitamin D3
D3 vitamin in an organism of a dog carries out the following functions: - accelerates an absorption of phosphorus and a calcium from an intestine; - regulates process of removal of phosphorus and calcium through kidneys; - provides the optimum content of phosphorus and calcium in bones.Vitamin D3: Learn more
(500 IE/kg)
Vitamin E
Vitamin E is one of the most necessary elements for the correct development of a dog.Vitamin E: Learn more
(50 mg/kg)
Vitamin A
Vitamin A and beta carotene contribute to normalization of a set of processes in an organism of a dog:

- increase fastness to viruses and infections; - accelerate process of growth and development; - improve sight, motility and coordination.Vitamin A: Learn more
(5.000 IE/kg)
Grain
Minerals
The minerals, necessary for animals, are divided into two groups: major elements and trace substances.Minerals : Learn more
Oils
Meat
Animal by-products
Analytical Constituents
| | |
| --- | --- |
| Crude protein | 18% |
| Crude fat | 12% |
| Crude ash | 7.5% |
| Crude fiber | 2.5% |
Suitable for Dog breeds
All dog breeds
Feeding recommendations
Meradog products are generally fed dry. Make sure that your dog has a constant supply of fresh water. The recommended details are only approximate values per day and must be adapted to suit outside influences and the dog's dispositions.

We recommend: The above-mentioned feeding recommendation is merely a guideline for balanced, requirement-oriented feeding of your dog. This information was calculated in accordance with the latest scientific knowledge, but must be adapted to the individual needs of your dog. Because a single number cannot cover all of the individual differences and conditions such as breed, age and size of dog, movement level, environmental influences (weather, summer, winter) etc.

Storage: Please store all Meradog products in cool and dry place so that the quality of our products is maintained over the entire shelf life.
Nutrition advice
Please pay attention to your dog's daily ration of the recommended food to get the ideal weight gain of your dog and prevent overweight. Your dog should always have an access to fresh water.
Disclaimer