Free delivery

Free delivery from 49,00 £

Personal support

+44 20 3856 3856

Cancellation Terms

Get instant support

Warranty

The warranty regulations by law are valid
Description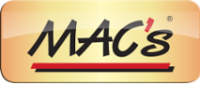 All Mac's Pouch Multipacks are cereal-free and exceptionally based on pure ingredients only.

Delicious combination of meat variaties, herbs, fruits and berries( ensures metabolism support improving general health. Due to high content of amino acids, the product is enriched with minerals and vitamins, that are vitally important for the cat.

It's a well-balanced nutritive formula based on pure natural ingridients with no colorants and preservatives.
3x Salmon & Poultry;
3x Herring & Shrimps;
3x Duck & Shrimp;
3x Pure Chicken.
Wet cat food MAC's Pouch - Multipack with Fish packaging sizes
Pouch - Multipack with Fish 12x100 g
Wet foods for cats MAC's
These are high-quality foods with which the animal will get optimum amount of qualitative meat.
Among the foods you can choose an ideal product even for pets with a sensitive stomach.
Ingredients
Chicken

(70%)
Herring

(55%)
Poultry

(35%)
Salmon

(32%)
Duck

(15%)
Shrimps

(15%)
Carrot

(5%)
Lingonberry

(2%)
Salmon oil

(0.2%)
Seaweed meal

(0.1%)
Additives
Vegetables
Taurine
The taurine is a useful amino acid which doesn't join in composition of proteins of an organism.Taurine : Learn more
Liver
Minerals
The minerals, necessary for animals, are divided into two groups: major elements and trace substances.Minerals : Learn more
Neck
Stomach
Oils
Meat
Animal by-products
Fish
Fish derivatives
Meat derivatives
Mussels
Crustaceans
Analytical Constituents
| | |
| --- | --- |
| Moisture | 80-81% |
| Crude fat | 6-6.8% |
| Crude protein | 10.2-11% |
| Crude ash | 1.8-2.2% |
| Crude fiber | 0.3-0.5% |
Feeding recommendations
Give approx. 3 pouches daily for a medium sized cat.
Nutrition advice
High quality Wet cat food Pouch - Multipack with Fish​ is recommended Food for mature cats.​
We advise you to observe the daily ration recommended by manufacturer. An increased daily intake can negatively affect the cat's health. Please provide your pet a constant access to fresh water.
The domestic cat needs the balanced food. It has to be the closest to the food that its ancestors had in a native habitat. Such nutrition will provide long, active and happy life to a cat.
More about Cat feeding
Recommendations on daily protein and fat intake for cats:
Disclaimer