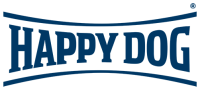 From 7 months onwards, the food should have a moderate energy and protein content to avoid too-rapid growth. Happy Dog Junior Grainfree has the ideal energy and protein content for particularly sensitive young dogs. The grain-free recipe offers a variety of 5 selected premium quality proteins, potatoes and nutritious New Zealand mussels. The unique loop shape makes the biscuits particularly easy to digest.

The Happy Dog Natural Life Concept supplies dogs with all the ingredients that will benefit their bodies holistically. Once they reach 18 months, they should be gradually changed over to a Happy Dog Adult food, such as "Canada".

Made in Germany under rigorous quality control.