Free delivery

Free delivery from 51,00 £

Personal support

+44 20 3856 3856

Cancellation Terms

Get instant support

Warranty

The warranty regulations by law are valid
As good as it looks with Tuna in Jelly 20x100 g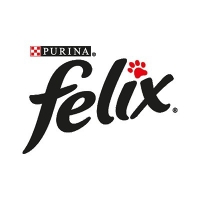 Felix loves his Felix because all Felix recipes are made with high quality and delicious ingredients for an irresistible meal.
And that's not all.
Felix recipes also contain all the proteins, vitamins and minerals a healthy cat needs to completely satisfy 100 per cent of your cat's daily needs to help them stay happy, healthy and mischievous.
FELIX As Good As It Looks is a range of delicious meals which look and smell so fishy, it looks like food you might have cooked yourself. Specially prepared with tender fishy pieces in a succulent jelly, we are sure your cat will find it irresistible every meal time.
Wet cat food Felix As good as it looks with Tuna in Jelly packaging sizes
As good as it looks with Beef in Jelly 20x100 g
As good as it looks with Chicken in Jelly 20x100 g
As Good As It Looks Chicken & Tomatoes in Jelly 20x100 g
As good as it looks with Cod in Jelly 20x100 g
As Good As It Looks with Rabbit in Jelly 20x100 g
Features of the Felix cat wet food
In addition to the essential vitamins that canned food is also enriched with linoleic acids, as well as particularly important Omega-6 fatty acids. Particularly varied is the range for adult and healthy cats./p>
Composition

Beef

Chicken

Chicken & Tomato

Cod

Rabbit

Salmon
Ingredients
Tuna

(4%)
Additives
Vitamin A

(1490 IE/kg)
Vitamin E

(17 IE/kg)
Ferrous
Iron is necessary for pets for prophylaxis of anemia, rising of resilience of an organism to illnesses, appetite improvements.Ferrous: Learn more
(10 mg/kg)
Zinc
Zinc is an important mineral which is a part of qualitative vitamin supplements and drugs.Zinc: Learn more
(10 mg/kg)
Manganese

(2 mg/kg)
Copper

(0.9 mg/kg)
Iodine

(0.3 mg/kg)
Linoleic acid

(0.2 mg/kg)
Meat
Animal by-products
Vegetable protein extracts
Fish
Fish derivatives
Minerals
The minerals, necessary for animals, are divided into two groups: major elements and trace substances.Minerals : Learn more
Analytical Constituents
| | |
| --- | --- |
| Moisture | 80% |
| Crude protein | 13% |
| Crude fat | 3% |
| Crude ash | 2.2% |
Feeding recommendations
Feed your adult cat (weight 4 kg) up to 3 sachets per day, 2 meals per day.
Nutrition advice
High quality Wet cat food As good as it looks with Tuna in Jelly​ is recommended Food for mature cats.​
We advise you to observe the daily ration recommended by manufacturer. An increased daily intake can negatively affect the cat's health. Please provide your pet a constant access to fresh water.
The domestic cat needs the balanced food. It has to be the closest to the food that its ancestors had in a native habitat. Such nutrition will provide long, active and happy life to a cat.
More about Cat feeding
Recommendations on daily protein and fat intake for cats:
Disclaimer