Animonda Wet dog food (58 products)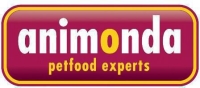 Animonda GranCarno Original Adult Beef & Deer with Apple 400 g

Beef & Venison

400 g

Animonda GranCarno Original Adult Beef & Smoked Eel with Potatoes 400 g

Beef & Eel

400 g

Animonda GranCarno Original Adult Beef & Wild 400 g

Beef & Game

400 g

Animonda GranCarno Original Adult Beef & Turkey 400 g

Beef & Turkey

400 g

Animonda GranCarno Original Adult Beef & Lamb 400 g

Beef & Lamb

400 g

Animonda GranCarno Original Adult Beef & Chicken 400 g

Beef & Chicken

400 g

Animonda GranCarno Original Adult With Beef & Heart 400 g

Beef & Hearts

400 g

Animonda GranCarno Original Adult Beef with Turkey Heart 400 g

Beef & Duck hearts

400 g

Animonda GranCarno Original Adult Multi-Meatcocktail 400 g

Meat

400 g

Animonda GranCarno Original Adult Beef & Salmon with Spinach 400 g

Beef & Salmon

400 g

Animonda GranCarno Original Adult Beef & Rabbit with Herbs 400 g

Beef & Rabbit

400 g

Animonda Vom Feinsten Adult with Beef, Egg and Ham 150 g

Beef & Ham

150 g

Apricot & Banana & Beef

150 g

Animonda Vom Feinsten Adult with Beef, Yoghurt & Oatmeal 150 g

Beef

150 g

Animonda Vom Feinsten Adult with Chicken, Yoghurt and Oatmeal 150 g

Chicken

150 g

Animonda Vom Feinsten Adult with Chicken, Egg and Ham 150 g

Chicken & Ham

150 g

Animonda Vom Feinsten Adult with Chicken, Banana and Apricots 150 g

Apricot & Banana & Chicken

150 g

Animonda Vom Feinsten Forest Adult Venison 150 g

Venison

150 g

Beef & Hearts & Turkey

150 g

Animonda Vom Feinsten Adult with Turkey + Lamb 150 g

Lamb & Turkey

150 g

Animonda Vom Feinsten Adult Poultry + Veal 150 g

Poultry & Veal

150 g

Beef & Poultry

150 g

Beef & Potato

150 g

Animonda Vom Feinsten Menue Lamb & Whole grain 150 g

Lamb

150 g

Animonda Vom Feinsten Menue Poultry & Pasta 150 g

Poultry

150 g

Poultry & Cod

150 g

Animonda Vom Feinsten Kleiner Racker Quail & Pears 85 g

Quail & Pear

85 g

Animonda Vom Feinsten Kleiner Racker Partridge & Marjoram 85 g

Partridge & Marjoram

85 g

Lamb liver & Apple

85 g

Animonda Vom Feinsten Kleiner Racker Veal heart & Mashrooms 85 g

Veal heart & Mushrooms

85 g

Animonda Vom Feinsten Light Lunch Turkey & Cheese 150 g

Turkey

150 g

Ham & Turkey

150 g

Animonda Vom Feinsten Senior Poultry & Lamb 150 g

Lamb & Poultry

150 g

Animonda Vom Feinsten Senior Turkey hearts 150 g

Hearts & Turkey

150 g

Animonda GranCarno Pouch Exotic with Kangaroo 125 g

Kangaroo

125 g

Animonda GranCarno Exotic with Ostrich 125 g

Ostrich

125 g

Beef & Lamb

400 g

Animonda GranCarno Original Senior Beef & Turkey Hearts 400 g

Beef & Turkey hearts

400 g

Animonda Vom Feinsten Adult Pork & Chicken 150 g

Pork & Chicken

150 g
* Prices incl. VAT
* Delivery Terms & Conditions

Dog food in cans from Animonda
Animonda wet dog food is produced in Germany. These are high-quality products corresponding to IFS and BRC standards. Moreover, food by Animonda is created involving experienced specialists from the leading European universities.
A wide variety of Animonda wet dog food
Integra Protect is a line of dietary products. The line has feeds for animals suffering from diabetes, allergies, obesity, kidney and urinary diseases. These diets promote faster recovery.
Vom Feinsten is food for pets of small breeds. Feeds of the line are especially soft and that's why they will appeal even to the most fastidious pets. The composition of these diets contain turkey, rabbit, chicken and lamb.
GranCarno Lieblingsfleisch is a line of wet feeds which are supplemented with a dried mixture of vegetables and herbs. Each of these diets has a single source of protein and contains no cereals. Before giving your pet the product you need to blend the main feed with dried vegetable mixture. This way, you'll get a well-balanced dish enriched with substances beneficial for the dog's health.
Aus der Heimat is organic food the composition of which includes only natural components. They're produced from products delivered by farm households.
GranCarno is a line of diets which has both versatile feeds suitable for all dogs and special products for animals with digestive problems. For production of these feeds the company uses the most tender technologies.
Animonda canned dog food – real premium quality
The canned food for dogs produced by Animonda is today considered the real premium brands in terms of dog food. No wonder, since the dog food is prepared on the basis of scientific research results and findings and assembled so that your dog can be supplied with all the essential ingredients. So it is very healthy and is geared to the natural needs of the dogs.
But when it comes to taste the canned food by Animonda is impressive and clearly convinced the dogs after the first bite.
A large amount of meat in combination with vegetables or potatoes and other ingredients containing a large amount of many vitamins, minerals, trace elements and many other nutrients, which keep your dog healthy and happy. Animonda canned dog food order at Zoobio Due to the many great advantages and the high quality of the dog food, it is no wonder that you find in the selection of Zoobio a wide range of different products by Animonda.
The manufacture of all products is dispensed with the use of soy, colorants and flavorings, and chemical preservatives, so that the canned dog food is very natural. Apart from the many different flavors, Animonda has specialized to offer dogs with special needs a suitable feed.
So there are senior food or canned food for puppies, which has the task of strengthening the bones during growth particularly. Since your dog receives in the future all the essential nutrients and vitamins it is very rare that he will get deficiency signs, so that the canned food can also be perfectly used as a complete food.
The best pet products at Zoobio
Our online store of pet products offers various goods by Animonda. If you don't know what product will suit your pet best, ask specialists of Zoobio customer support service for advice. They give you all the necessary information about products and help to choose and buy wet dog food by Animonda successfully. You'll spend the minimum of your time on the order placement thanks to the convenient search system and user-friendly interface. Make a purchase right now and experience all the advantages of our online store!