Animonda Wet food for kittens and junior cats (19 products)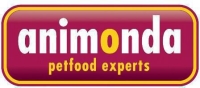 Kitten wet food from Animonda
Animonda kitten food is high quality wet products enriched with almost all the useful substances which are necessary for the small pets for growing and development. Feeds of the given trademarks have been produced for more than 25 years with the assistance of experienced veterinarians and other specialists. And the equipment with the help of which Animonda kitten feeds are produced corresponds to strict quality requirements set by IFS/BRC standards.
7 reasons to buy Animonda kittens feeds
In the composition of the products there are only natural components. Animonda food doesn't have synthetic additives.
The feeds of this trademark are carefully balanced and correspond to the body features of kittens.
Animonda wet feeds are rich in various useful substances. Among them there is Vitamin D3 for healthy bones, iodine for the proper function of the thyroid and many others.
Animonda kitten feeds are easily digestive products in the composition of which there are no grain crops and soya. Moreover, the given diets contain a lot of beef which is rich in substances useful for the animal's body.
Animonda product range is diverse. Every product has several kinds of natural meat. Among the offered feeds you'll surely find the feed which will perfectly suit your four legged pet.
All the wet feeds of the trademark are enriched with taurine. It's a substance which kittens need for the proper enzyme production and, as the result, normal function of digestion. Moreover, taurine strengthens the cardiovascular system and contributes to the maintenance of visual acuity.
The products are available in two variants of packages: 200 g and 400 g. You can choose the most convenient pack.
The best pet products at Zoobio
Have a look at Zoobio catalogue to purchase useful and tasty foods for your kitten at a reasonable price. Our online store undertakes the sale of Animonda kitten food on favourable terms. We regularly give our clients discounts and bonuses to make shopping even more affordable. Thanks to the wide product range at Zoobio you'll find all the necessary things for your pet. Thus, you'll save not only your time on searching for products, but also your money: you won't have to pay for the delivery in several shops. It's possible to buy Animonda food for kittens in our website right now. Just add the products you like in the basket and leave us your personal data. Don't miss a chance to save your money - place an order at Zoobio!