Food for kittens by Animonda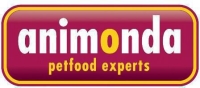 Chicken & Duck & Turkey

400 g

Meat & Fish

100 g

Poultry

100 g

Lamb

100 g

Beef

100 g

Poultry

1.75 kg

Beef & Veal & Chicken

200 g

Beef & Chicken

200 g

Beef & Turkey hearts

200 g

Poultry

200 g

Beef & Chicken & Rabbit

400 g

Beef & Veal & Chicken

400 g

12x200 g

Poultry & Shrimps

100 g

Animonda Rafiné with Sauce Kitten Turkey, Heart & Carrots

Turkey & Hearts & Carrot

100 g

Beef & Chicken

6x200 g

Poultry

6x400 g

Chicken & Rabbit

6x400 g

Beef & Turkey hearts

6x200 g
* Prices incl. VAT
* Delivery Terms & Conditions

Food for kittens from Animonda
Animonda Carny kitten food is canned food enriched with vitamins and minerals necessary for growing pets. Under this brand, for more than 25 years they've been making high-quality food products elaborated together with professional dieticians and veterinarians. Animonda industrial sites are certified in compliance with the IFS/BRC quality standard.
Main advantages of Animonda Carny kitten food
Products are made from fresh natural ingredients. The manufacturer refused to use any genetically modified products, artificial preservatives, colourants and flavourings.
Thanks to an optimal balance of beneficial substances, Animonda Carny food fully satisfies the food requirements of kittens during the first year of their life.
Cans contain vitamin D3 as well as iodine and manganese necessary for the proper growth and development of baby cats. This food contains zinc as it plays an important role in the absorption of nutrients.
Products contain a large amount of beef, which is rich in valuable vitamins, minerals and amino acids. Moreover, there is no soy and grains in cans. Thanks to it, animals absorb this food well.
All Animonda Carny cans include taurine. This amino acid is very important for the proper functioning of the digestive system. Besides, this component makes the immunity stronger and has a positive effect on the functioning of the cardiac muscle of animals.
Animonda Carny food products are characterised by a variety of flavours. Each food contains two or three kinds of meat including by-products. Thanks to such a wide assortment, you'll surely find a can that your pet will like.
Foods are available in 200 g and 400 g cans. This is very convenient as you can choose a pack depending on your pet's appetite.
How to buy Animonda Carny kitten food online
Would you like to buy balanced diet for your growing pet? Zoobio will help you to do it with great pleasure. We have Animonda Carny kitten food with different flavours on offer. There is no more need to look for items in different shops and pay delivery fees every time. There is everything your kitten needs in our online shop. Today, you can buy Animonda Carny kitten food inexpensively and provide your pet with a delicious and healthy diet. You will be definitely surprised with various promotions and personal bonuses – discount coupons for our goods. Place your order on Zoobio right now and see for yourself all the advantages of truly great shopping!