Felix Wet food for cats (74 products)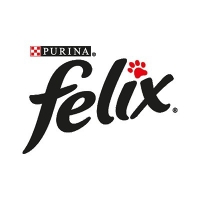 Felix As good as it looks with Chicken in Jelly 100 g

Chicken

100 g

Felix As good as it looks with Tuna in Jelly 100 g

Tuna

100 g

Felix As good as it looks with Cod in Jelly 100 g

Cod

100 g

Felix As Good As It Looks with Rabbit in Jelly 100 g

Rabbit

100 g

Felix As Good As It Looks Chicken & Tomatoes in Jelly 100 g

Chicken & Tomato

100 g

Felix Sensations with Chicken in Jelly with Carrot 100 g

Chicken & Carrot

100 g

Felix Sensations in Jelly with Pollock and Tomato 100 g

Pollock & Tomato

100 g

Beef & Tomato

100 g

Felix Sensations Trout & Spinach in Jelly 100 g

Trout & Spinach

100 g

Felix Sensations Gelees with Duck & Spinach 100 g

Duck & Spinach

100 g

Felix Multipack As Good as it Looks with Meat Menus in Jelly 12x100 g

Meat

12x100 g

Felix Chunks in Sauce with Rabbit & Duck 100 g

Rabbit & Duck

100 g

Beef & Game

100 g

Chicken & Beef

4x100 g

Felix As good as it looks in Jelly with Salmon & Plaice 4x100 g

Salmon & Plaice

4x100 g

Felix Chunks with Wild & Poultry in Jelly 100 g

Game & Poultry

100 g

Duck & Beef

100 g

Felix Chunks in Jelly with Salmon and Plaice 100 g

Salmon & Plaice

100 g

Felix Chunks in Sauce with Chicken & Turkey 100 g

Chicken & Turkey

100 g

Felix Chunks in Sauce with Salmon and Tuna 100 g

Salmon & Tuna

100 g

Felix As good as it looks with Rabbit & Lamb in Jelly 4x100 g

Rabbit & Lamb

4x100 g

Beef & Turkey

400 g

Felix Chunks with Duck and Poultry in Sauce 400 g

Duck & Poultry

400 g

Felix Chunks with Rabbit and Chicken in Sauce 400 g

Rabbit & Chicken

400 g

Felix Chunks with Chicken in Jelly 400 g

Chicken

400 g

Felix Chunks with Rabbit & Duck in Jelly 400 g

Rabbit & Duck

400 g

Beef & Chicken

400 g

Felix Chunks with Duck & Poultry in Jelly 400 g

Duck & Poultry

400 g

Felix Chunks with Salmon & Trout in Jelly 400 g

Salmon & Trout

400 g

Beef & Poultry

100 g

Felix As Good as it Looks Doubly Delicious Fish with Sardine & Salmon in Jelly 100 g

Sardine & Salmon

100 g

Felix Multipack Pouch Sensations with Meat Selection in Jelly 24x100 g

Meat

24x100 g

Fish

24x100 g

Felix Multipack Sensations Crunchy Crumbles Meat Mix 10x100 g

Meat

10x100 g

Beef & Tomato

100 g

Felix Sensations Salmon in Shrimp Sauce 100 g

Salmon

100 g
* Prices incl. VAT
* Delivery Terms & Conditions

Canned cat food from Felix
Felix cat canned food - your cat will love it
Designed to keep your cat feel well all around, it is important to always give them food that meets the highest quality standards and thereby convinces with a delicious taste. This is where the cats canned food manufacturers Felix comes into play and impresses with a huge selection of different varieties. The focus of the intelligent and thoughtful composition of each product is always your cat's health, which is supported by the many vitamins, trace elements, the many luxurious nutrients and minerals. Cats that eat Felix, obtained mainly a large amount of vitamin D and E, so that the coat shines beautifully and your favorite gets better skin structure.
Order Felix wet food at Zoobio
The canned food from the brand Felix is represented in the range of Zoobio often. Different flavors are available for each cat and for it's personal preference is always something suitable.
Be it lamb, poultry, fish types, beef or rabbit, we will offer the gourmet menu enriched in supplements that will not leave your picky home "tiger" uninterested. Animals with intolerances or allergies do not miss out and find special food from Felix as well. For baby cats Felix Kitten menus are perfectly portioned and full of important ingredients that help the body growth. Seniors receive a particularly mild and well tolerated menus, which are not only easy to digest, but also provide the body with lots of energy.