Felix Meals for cats (104 products)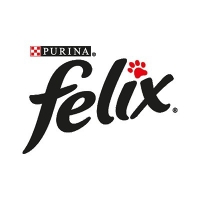 Felix As good as it looks with Chicken in Jelly 100 g

Chicken

100 g

Felix As good as it looks with Tuna in Jelly 100 g

Tuna

100 g

Felix As good as it looks with Cod in Jelly 100 g

Cod

100 g

Felix As Good As It Looks with Rabbit in Jelly 100 g

Rabbit

100 g

Felix As Good As It Looks Chicken & Tomatoes in Jelly 100 g

Chicken & Tomato

100 g

Felix Sensations with Chicken in Jelly with Carrot 100 g

Chicken & Carrot

100 g

Felix Sensations in Jelly with Pollock and Tomato 100 g

Pollock & Tomato

100 g

Beef & Tomato

100 g

Felix Sensations Trout & Spinach in Jelly 100 g

Trout & Spinach

100 g

Felix Sensations Gelees with Duck & Spinach 100 g

Duck & Spinach

100 g

Felix Multipack As Good as it Looks with Meat Menus in Jelly 12x100 g

Meat

12x100 g

Felix Chunks in Sauce with Rabbit & Duck 100 g

Rabbit & Duck

100 g

Beef & Game

100 g

Beef & Chicken & Salmon

60 g

Felix Snack Goody Bag Original Mix 60 g

Chicken & Liver & Turkey

60 g

Felix Snack Goody Bag Seaside Mix 60 g

Salmon & Pollock & Trout

60 g

Felix Snacks Goody Bag Cheesy Mix 60 g

Cheese

60 g

Felix Crispies Lamb & Vegetables 45 g

Lamb & Vegetables

45 g

Felix Crispies Salmon & Trout 45 g

Salmon & Trout

45 g

Beef & Chicken

45 g

Felix Snack Goody Bag Picnic Party 60 g

Chicken & Cheese & Turkey

60 g

Chicken & Beef

4x100 g

Felix As good as it looks in Jelly with Salmon & Plaice 4x100 g

Salmon & Plaice

4x100 g

Felix Chunks with Wild & Poultry in Jelly 100 g

Game & Poultry

100 g

Duck & Beef

100 g

Felix Chunks in Jelly with Salmon and Plaice 100 g

Salmon & Plaice

100 g

Felix Chunks in Sauce with Chicken & Turkey 100 g

Chicken & Turkey

100 g

Felix Chunks in Sauce with Salmon and Tuna 100 g

Salmon & Tuna

100 g

Felix As good as it looks with Rabbit & Lamb in Jelly 4x100 g

Rabbit & Lamb

4x100 g

Felix Goody Bag Dairy Delicious 60 g

Milk & Yoghurt & Cheese

60 g

Felix Party Mix Countryside Flavour 60 g

Duck & Turkey & Rabbit

60 g

Chicken & Vegetables

1 kg

Meat

1 kg

Felix Farmhouse Sensations with Poultry 1 kg

Poultry

1 kg

Felix Ocean Sensations with Salmon, Pollock and Vegetables 2 kg

Salmon & Vegetables

2 kg

Beef & Turkey

400 g

Felix Chunks with Duck and Poultry in Sauce 400 g

Duck & Poultry

400 g

Felix Chunks with Rabbit and Chicken in Sauce 400 g

Rabbit & Chicken

400 g

Felix Chunks with Chicken in Jelly 400 g

Chicken

400 g

Felix Chunks with Rabbit & Duck in Jelly 400 g

Rabbit & Duck

400 g

Beef & Chicken

400 g
* Prices incl. VAT
* Delivery Terms & Conditions

Cat food from Felix
Felix cat food is dry and wet foods that stand out by a variety of flavours. The brand belongs to the company Purina whose history has already been lasting for more than 85 years. Over the time, the company has created a great number of pet supplies brands.
Wide range of Felix cat food
Under this trademark, they produce a huge number of wet foods. In particular, there are available the following lines of such products as:
Dose;
Schale;
So gut wie es aussieht;
So gut wie es aussieht Doppelt Lecker;
Sensations Crunchy;
Sensations Extras;
Sensations Saucen;
Sensations Gelees.
You can also buy dry foods from this trademark. These kinds of Felix cat food are presented, for instance, in the following lines:
Senior Sensations;
Junior Sensations;
Meaty Sensations;
Inhome Sensations;
Ocean Sensations;
Crunchy & Soft.
Main advantages of Felix cat food
Among the products from this brand, there will be a suitable product even for a cat-gourmet. Thus, there are available foods with rabbit, chicken, salmon, cod. There are products with two kinds of meat, for example, with beef and chicken.
Meat components in most foods are combined with healthy and delicious plant ingredients. For example, vegetable contained in the products are sources of vitamins essential for every cat.
Felix wet foods are available in different packs. Thus, you can choose an option, convenient both for you and for your pet. For example, a pouch contains a small portion of food which your cat can quickly eat up and you won't have to keep the rest in the fridge. Trays are especially convenient to use while travelling: your cat will be able to eat the food right from the pack. However, large cans are ideal if you have several pets.
Felix cat food and treats have an excellent taste and aroma.
The manufacturer offers nutrition for pets of different ages. Thus, you can choose a balanced food both for a kitten and for a senior pet.
How to buy Felix cat food online
The online shop Zoobio gives you an opportunity to buy high-quality products for your pets and save at the same time. In particular, here you can buy Felix kitten food cheaply. While promotional offers are going on these products are even more affordable. Moreover, in our shop you can order not only foods but other items for your cat as well: buying everything necessary for your pet here you won't have to pay for deliveries from different online shops. Become a Zoobio customer right now to indulge your pet with something delicious without spending too much!