Bozita Meals for cats (33 products)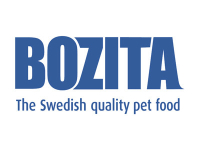 Bozita Chunks in Jelly with Elk 370 g

Elk

370 g

Bozita Chunks in Jelly with Duck 370 g

Duck

370 g

Bozita Chunks in Jelly with Chicken Liver 370 g

Chicken liver

370 g

Bozita Chunks in Jelly with Rabbit 370 g

Rabbit

370 g

Bozita Chunks in Jelly with Salmon and Clam 370 g

Salmon

370 g

Bozita Chunks in Jelly with Lamb 370 g

Lamb

370 g

Bozita Chunks in Jelly with Mackerel 370 g

Mackerel

370 g

Bozita Chunks in Jelly with Crayfish 370 g

Crayfish

370 g

Bozita Chunks in Jelly with Turkey 370 g

Turkey

370 g

Bozita Chunks in Jelly with Haddock 370 g

Haddock

370 g

Bozita Chunks in Jelly with Extra Chicken 370 g

Chicken

370 g

Chicken & Salmon

190 g

Bozita Chunks in Sauce with Shrimps 370 g

Prawns

370 g

Bozita Chunks in Sauce with Chicken and Turkey 370 g

Chicken & Turkey

370 g

Bozita Chunks in Sauce with Rabbit 370 g

Rabbit

370 g

Bozita Chunks in Sauce with Salmon 370 g

Salmon

370 g

Bozita Chunks in Sauce with Reindeer 370 g

Reindeer

370 g

Beef

370 g

Bozita Feline with Shrimp 410 g

Prawns

410 g

Bozita Feline with Chicken 410 g

Chicken

410 g

Bozita Feline with Salmon 410 g

Salmon

410 g

Beef

410 g

Chicken

190 g

Elk

10 kg

Chicken

10 kg

Salmon

10 kg

Chicken & Fish

10 kg

Chicken

400 g
* Prices incl. VAT
* Delivery Terms & Conditions

Cat food from Bozita
Bozita cat food has been produced by Swedish company Doggy AB since 1903. The manufacturer uses selected raw materials. In particular, products from this trademark do not contain beaks, claws, feathers and other wastes.
Wide range of Bozita cat food
Wet food Bozita Feline. These are products with a high amount of meat. There are no chemical preservatives and taste enhancers in them. Foods are characterised by a balanced number of vitamins and mineral substances. Besides, these products contain little fat. The manufacturer offers meals with different flavours, among which are chicken, turkey, duck, mutton, rabbit. You can make your pet happy with meat pieces in jelly or in sauce.
Bozita Feline Funktion. This line includes both dry and wet products. These kinds of Bozita cat food are made with the consideration of the fact that pets' food requirements differ depending on the peculiarities of the body and state of health. Among the assortment of the line, you can choose a product:

for active pets;
for kittens as well as for pregnant and lactating females;
for cats with sensitive digestion;
for neutered pets;
for animals with skin and coat conditions;
for the representatives of large breeds.
Main advantages of Bozita cat food
Together with high-quality meat contained in these products, your pet will get important easily digestible animal proteins.
Foods are enriched with vitamins that have a positive effect on the health. For example, vitamin A encourages visual acuity, vitamin E protects body cells from destruction.
Wet foods are available not only in cans but also in eco-pack Tetra Recart. It can be utilised without any difficulties.
Bozita Feline Funktion dry foods have a positive effect on the oral health. Besides, such food can remain in a bowl for a long time being fresh at the same time. On the other hand, Bozita Feline Funktion wet food is ideal for pets that drink little water. The animal will get sufficient amount of liquid with such meals, which helps to prevent many health problems.
How to buy Bozita cat food online
If you are looking for a real way to save, visit online shop Zoobio. We offer you to buy Bozita cat food cheaply. Low prices are set for these products and while promotional offers are going on, foods become even more affordable. Besides, you can order other cat supplies in our shop: you won't have to pay for delivery fees from other online shops. Become Zoobio customer today to buy the best inexpensively!