Free delivery

Free delivery from 51,00 £

Personal support

+44 20 3856 3856

Cancellation Terms

Get instant support

Warranty

The warranty regulations by law are valid
Classic fresh 3 in1 Cotton Blossom 20 l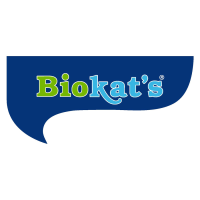 Biokat's Classic fresh with Cotton Blossom fragrance stands out with its AromaProtect Formula. This reliably captures unpleasant odours and releases our pleasant Cotton Blossom fragrance. As a result of this, the Biokat's AromaProtect Formula, developed by our experts for cat hygiene, provides for sustained odour binding!

How does our Biokat's 3 in1 Hygiene Formula stand out?

Biokat's Classic fresh consists of three different granule sizes:
Our large sized granules have several, especially large pores. These pores absorb liquid and odours in a similar way to a sponge. A handful of our large granules has the same surface area of an entire football field!

Our medium sized granules form especially strong clumps. As soon as these granules come into contact with liquid, they join firmly together to create clumps that are formed as a result their stable bond.

Our small granules increase the yield. They distribute themselves in the litter, and support the medium sized and large sized granules to deliver optimum performance.
Cat litter Biokat's Classic fresh 3 in1 Cotton Blossom variants:
Classic fresh 3 in1 Cotton Blossom 10 l
Classic fresh 3 in1 Cotton Blossom 20 l
Cat Litter Tips
Disclaimer